3D printing for teachers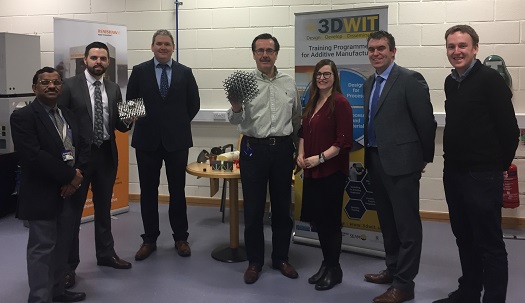 I-Form is keen to inspire the next generation of manufacturing talent to join our evolving industry, to help address the growing skills shortage in advanced manufacturing. Teachers, meanwhile, are keen to learn more about new technologies, integrate them into the classroom and guide their students along their future career paths.
I-Form, in partnership with the Junior Cycle for Teachers - Technologies (JCT4), is running an SFI Discover-funded project in 2021 aimed at upskilling teachers in the use of 3D printing technology in the classroom. A series of training workshops aims to build teachers' confidence and ability to link 3D printing projects to the curriculum and to discuss manufacturing careers with their students.
JCT4 is a national teacher training organisation run by the Department of Education, overseeing Continuing Professional Development for Junior Cycle (age 12 to 15) teachers across Ireland. The JCT's role is to deliver training, advice and support for teachers as they adapt to the recently reformed Junior Cycle curriculum. JCT4 has identified the demand from teachers for practical, creative and interesting projects for the classroom that link to the newly reformed curriculum around Technologies – a term that encompasses 4 subjects: Engineering, Applied Technology, Wood Technology and Graphics.
I-Form's engagement with the JCT4 grew out of another SFI Discover-funded programme delivered in 2019, Shaping Your Future. During that programme, 14 second-level teachers from the Engineering & Technology Teachers Association (ETTA, a membership organisation with 300+ members) participated in a day of hands-on 3D printing training. Ten teachers later secured a 3D printer for their school, through GE Additive's global donation scheme, thanks to advocacy from I-Form.
3D printing is a key technology in advanced manufacturing – it is visually appealing, tangible and creative and has the potential to spark the imagination of teachers and students, allowing them to develop skills in design, printing and materials investigation. We aim to harness this technology as a vehicle to talk about new careers in manufacturing and change the perception of manufacturing, from one of gruelling hours on a factory floor in a sunset industry to one that requires high-tech skills, is highly paid and is open to all.
In 2020, a series of workshops will be delivered by I-Form in partnership with its preferred training supplier, 3DWIT, a specialist trainer in additive manufacturing for industry located in Waterford IT.
At the workshops, Junior Cycle teachers will:
Learn how to introduce 3D printing to the classroom, and how to link it to the curriculum
Gain confidence in running projects based around 3D printing
Find out where to access free resources and support for 3D printing projects
Find out about careers in 3D printing and manufacturing, and the skills that are needed among the manufacturing workforce today
The training will also encompass a 'meet the researchers' session, where I-Form researchers will discuss their current research and, crucially, their own career pathways, from second-level student to researcher and beyond, to where they see themselves working in the future. The researchers will act as role models, helping teachers visualise their own students in these roles in the future.
****
Image shows members of 3DWIT, I-Form and JCT4 at the 3DWIT facility in Waterford IT.