Manufacturing for primary schools
I-Form is working with primary schools around Ireland in an effort to inspire the next generation to explore manufacturing and to support teachers who are keen to learn more about new technologies (such as 3D printing) and integrate them into the classroom.
Manufacturing a Healthy Future
'Manufacturing a Healthy Future' is a European project funded by EIT Manufacturing; the project partners are Stryker and I-Form (University College Dublin) in Ireland; Arts et Metier Institute of Technology in France; University of Tartu in Estonia; LINPRA in Lithuania; and PBN in Hungary.
Apply now for our 3D printing teacher training course (summer 2023)
Aside from in-person 3D printing training courses, the project has also developed a short series of e-learning content on 3D printing that is available to all interested teachers. If you would like access to this content on the Skillsmove platform, email education@i-form.ie to request free access.
STEM Matters magazine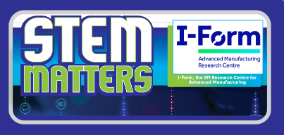 I-Form was the featured research centre in the April 2022 issue of 'STEM Matters', an 8-page publication for the primary school magazine, Primary Planet.
The issue features an accessible introduction to cutting edge research in advanced manufacturing, a Design Thinking challenge for the classroom, fun videos and researcher profiles.