Funder: European Institute of Innovation and Technology
I-Form Investigator: Denis Dowling, UCD
For more information please contact the I-Form Grants Manager Sophie O'Kelly.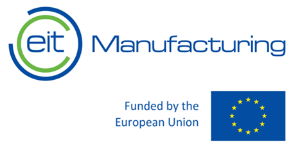 EIT Manufacturing is a consortium of 50 partners across 17 countries and links industry, research technological organisations and universities across Europe. Its vision is that global manufacturing innovation is led by Europe. EIT Manufacturing's mission is to "bring European manufacturing actors together in innovation ecosystems that add unique value to European products, processes, services – and inspire the creation of globally competitive and sustainable manufacturing".
I-Form, via UCD, is leading the Irish involvement, playing a role in the Education, Innovation and Business Creation Pillars of EIT Manufacturing's strategy. I-Form researchers have been or are involved in various education projects, including set-up of a learning factory to upskill existing industry operators, the creation of educational "nuggets" (pieces of educative materials likely to be consumed in no more than 15 minutes, to be accessed on the EIT Manufacturing Guided Learning Platform) on additive manufacturing and the design of a "factory in a box" dedicated to second-level student education. Discover the projects funded by EIT Manufacturing here.
---