Manufacturing a Healthy Future: 3D Printing for primary school teachers
'Manufacturing a Healthy Future' is a European project funded by EIT Manufacturing and brought to you by Stryker and I-Form (University College Dublin) in Ireland; Arts et Metier Institute of Technology in France; University of Tartu in Estonia; LINPRA in Lithuania; and PBN in Hungary. The project ran very successfully in 2021 and 2022 and is continuing in 2023 with expansion into Hungary and Lithuania.
Teacher training programme
Are you curious about 3D printing? Would you like to explore a fun and challenging way to bring manufacturing into your classroom?
We are offering primary school teachers a free, 3-4 day, hands-on exploration of 3D design and printing in manufacturing. After the course teachers are invited to run a 3D printing challenge with a sustainability theme in the classroom, with support from local partners. No previous experience is necessary. The project is best suited to teachers of 2nd class up to 6th class. (See learning objectives below.)
Participating teachers who are committed to running the classroom challenge will be provided with access to a 3D printer for their school. (Schools will be able to avail of a free, long-term loan of a printer – a piece of equipment worth between EUR1,000 and EUR2,500.)
A travel bursary of up to EUR100 per participant is available for those attending from outside Dublin. (Receipts/evidence of mileage must be submitted.)
Unfortunately, EPV days are not available for this course.
Venue & location
The training takes place in person over 3 days in July in Dublin. An optional fourth day with a trainer is also available, for those who need more support. A follow-up online session will also be provided.
In-person training will be held at:
Fingal Makerspace, Blanchardstown Library, Dublin 15
3rd, 4th, 5th July, 9:20 to 2:30pm each day. Optional extra day: 6th July.
Lunch, tea/coffee & refreshments will be provided.
How to apply
Places are limited and will be offered on the basis of an application process. Fill in the application form here:
https://forms.gle/8oxvhYx8NCxLiDaE9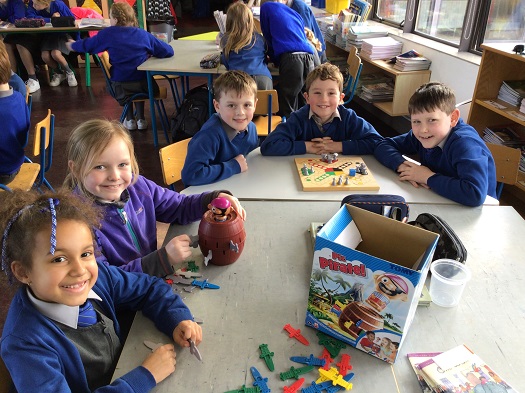 Learning objectives of the project
After the 3D printing training course, teachers have:
Learned about the different components that make up a 3D printer
Learned how to calibrate, troubleshoot, maintain and be safe with a 3D printer
Experienced the Design Thinking process and learned how to implement it in the classroom
Hands-on experience using design software and printing in 3D
Learned about different printing filaments and their application
Explored 3D design lesson plans designed for primary education settings
Been invited to run a 'sustainability challenge' in the classroom, with support from industry and research partners
Been invited to explore curriculum links for 3D printing
Previous participants said:
"I was nervous at first, but the step-by-step instructions, in a supportive environment, gave me the confidence to get up and running with this exciting technology."
"The possibilities for the children are endless – it's important to introduce them to the technologies they could be working with in the future, and to give them an enjoyable, self-directed experience."
"The trainer and the I-Form and Stryker teams were so supportive and always available to answer any questions and help us on our 3D printing journey."
Primary school teachers, apply for the training programme now:
https://forms.gle/8oxvhYx8NCxLiDaE9
Success to date
3D printing (known in industry as additive manufacturing) is a key enabling technology of Industry 4.0 – a term used to signify the new era of industrial production, encompassing advanced technologies such as artificial intelligence, machine learning, robotics, and the Internet of Things. 'Manufacturing a Healthy Future' is an innovative programme that recognises that teachers are key influencers of the next generation but sometimes lack access to information and technology around the newest areas of science, technology, engineering, and mathematics (STEM) and manufacturing.
Over two years of the project, highlights to date include:
116 primary school teachers across three countries have been trained on how to design and print using a 3D printer.
3,000 primary school children in three countries have taken part in a design challenge.
In Ireland, 47 teachers and 1,000 pupils have taken part in the programme.
Check out the Irish winners of the 2022 Sustainability Challenge (news story and videos)
Download the European 2021 Winners booklet for the 2021 Health Challenge (PDF)