Irish Wheelchair Association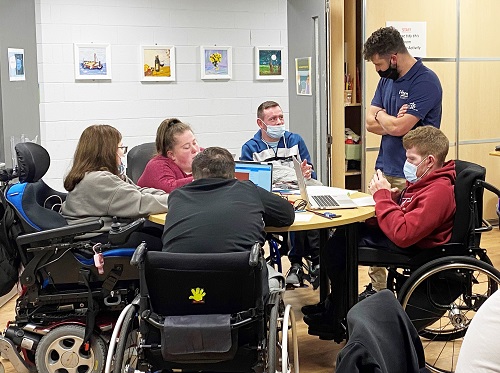 I-Form, the SFI Research Centre for Advanced Manufacturing, is supporting the Irish Wheelchair Association (IWA) and their members on a journey into creating their own assistive devices.
Over summer 2022, I-Form worked with staff and service users at the Clontarf branch of the Irish Wheelchair Association to support activities in the area of 3D printing. 3D printing is a way to quickly and easily create bespoke objects and complex shapes, built up layer by layer using various materials. Known as additive manufacturing in industry, 3D printing is a key area of research for I-Form. I-Form also runs a public engagement programme with a speciality in 3D printing training for non-experts, e.g. teachers, community groups.
In spring 2022, a Youth Service Support Worker at the IWA contacted I-Form after the Clontarf centre received a grant from the National Youth Council of Ireland to purchase a new piece of equipment – a 3D printer.
I-Form advised on the type of printer to purchase, and later supported its installation at the centre. To ensure the machine would provide maximum benefit to the centre, I-Form organised and delivered a series of bespoke training modules to eight IWA staff members. Then a series of training evenings for youth members was co-created and co-delivered in partnership with the IWA's Youth Service Support Worker staff.
Ten youth members attended the in-person evening sessions over a number of weeks, learning the basics of 3D design and print, including how to design simple objects, tips for improving design, and how to find interesting projects to work on. On one evening, members of the I-Form research team demonstrated a 3D printed wheelchair cushion – the output from a research project at UCD investigating the feasibility of printing bespoke wheelchair seats for wheelchair users.
In a focus group after the sessions, youth members spoke of their surprise at the ease with which they could access and start creating with 3D printing. They expressed enthusiasm for continuing their 3D journey and for designing and making their own assistive devices for use in their daily lives. Ongoing support is being provided by I-Form.