I-Form leads Ireland's delegation at recent international Standards gathering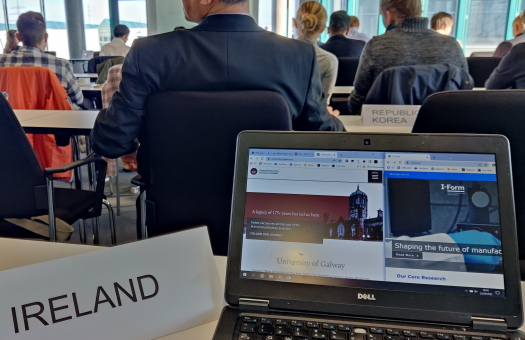 Noel Harrison, an I-Form academic in Mechanical Engineering at the University of Galway was head of Ireland's National Standards Authority of Ireland (NSAI's) delegation at the recent International Organization for Standardization (ISO) TC 261 'Additive Manufacturing' and ASTM F42 'Additive Manufacturing Technologies' combined meeting.
The forum took place at Augsburg, Germany, from the 19th to the 23rd of September, 2022. The week started with an ASTM F42 workshop hosted by Fraunhofer IGCV, and ended with the 20th Plenary Meeting of ISO-TC 261. Tuesday to Thursday consisted of multiple parallel sessions where various ISO working groups met, this included ISO/ASTM joint working groups. The groups voted on their specific draft industry standards and work items in the areas of additive manufacturing materials, testing, quality, processes, data, design, safety, and terminology. Dr Harrison's attendance at the meeting was funded by Engineer's Ireland Standards Developing Fund, which supports Irish experts attending standards meetings.
Noel Harrison was appointed chair of the NSAI/TC 049/SC 02 "Additive Manufacturing" committee in 2020. This committee mirrors and engages directly with ISO and ASTM standards bodies and is the direct route for companies and researchers in Ireland looking to influence industry standards relating to additive manufacturing. NSAI's Barry Cox is the secretary of this mirroring committee and tracks all ISO TC261 activity and facilitates access. In total there are now 24 published ISO standards and 33 ISO standards under development by ISO TC 261.
If you are interested in learning more or contributing to standards development in AM from Ireland, contact noel.harrison@i-form.ie.