I-Form featured in 'Unlocking Science' global series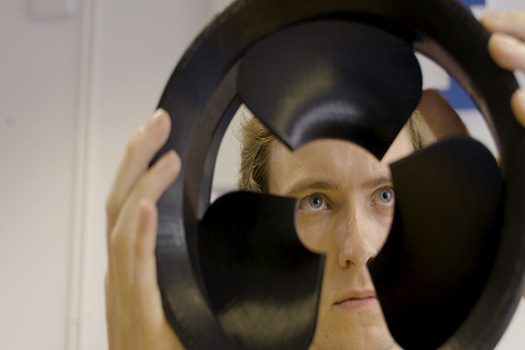 I-Form, the SFI Research Centre for Advanced Manufacturing, and partner company w1Da are featured in a new innovative online series exploring the ever-changing face of science culture.
The series, 'Unlocking Science', is produced by BBC StoryWorks Commercial Productions and presented by the International Science Council. It includes films, articles and podcasts that tell the human stories behind our most immediate and complex concerns.
The series explores how scientists are becoming ever more creative in their approach to our most pressing challenges, including innovators working to protect vital ecological biomes like the Great Barrier Reef and the Amazon rainforest, and scientists seeking stability after being displaced by conflict.
I-Form's involvement in the series is detailed in a six-minute film, which highlights its research work with County Mayo-based manufacturing company w1Da. This collaboration involves the development of the w1Da eco-friendly electric motor, for use in the marine industry. In addition to powering the boat, the motor can also harness the energy generated as a yacht moves through the water under sail. This ability to capture energy from the movement of the yacht, its storage in a battery, then its use to power the boat when there is no wind, has significant environmental benefits, as it involves zero emissions.
I-Form, headquartered at University College Dublin, used its expertise in digital technologies to help advance the manufacturing process. Additive manufacturing (3D printing) technology was used to print prototype designs of the propellers. These carbon-fibre reinforced, printed polymer composite propellers were then tested using a 20 metre long flume tank at UCD, facilitating evaluation of the propeller performance.
The electric motor is almost completely silent and retractable, and its blades are also designed so it has minimal impact on marine life. The optimised print designs have resulted in a significant enhancement in the performance of the propellers, with an increase in the amount of thrust they can generate. It is hoped the collaboration between w1Da and I-Form can help to make a significant environmental impact, through the wider adoption of electric motors within the marine industry worldwide.
Along with contributions from I-Form and w1Da, the film also features professional solo sailor Joan Mulloy, who discusses the benefits of sailing with sustainable motors.
In early 2021, both I-Form and w1Da announced a new two-year programme worth €225,000, to further enhance their development and production of an eco-friendly electric motor design. Prof. Denis Dowling, director of I-Form, leads the research team on the collaboration, which includes Prof Alojz Ivankovic and Dr Andrew Dickson.
Prof Dowling said: "The Unlocking Science series is a fantastic platform to show the global collaborative effort by the international science community, and how science is rising to the challenge of finding new solutions for a more sustainable globe. In our collaboration with w1Da, I-Form is bringing together materials science, engineering and the use of data analytics expertise, to further develop advanced manufacturing processes. Our partnership with w1Da is an important example of how these skills can be applied to the design and manufacture of sustainable solutions, with significantly reduced carbon emissions."
Joe Casey, w1Da General Manager, said: "I-Form has helped us to accelerate the development of a range of new lightweight electric motors that will support the phasing out of petrol and diesel motors for marine transport. The R&D collaboration with I-Form is a key element of our company's plans to expand eco-friendly manufacturing, attract further Sustainable Investment, establish sales across Europe and recruit more skilled staff in the West of Ireland in 2022."
The film was produced by BBC StoryWorks for I-Form, and is presented by the International Science Council. BBC StoryWorks is the commercial content division of BBC Global News.
Explore the full series here: www.unlockingscienceseries.com