Annual International Student Conference and Summer School in Metallic Materials hosted in DCU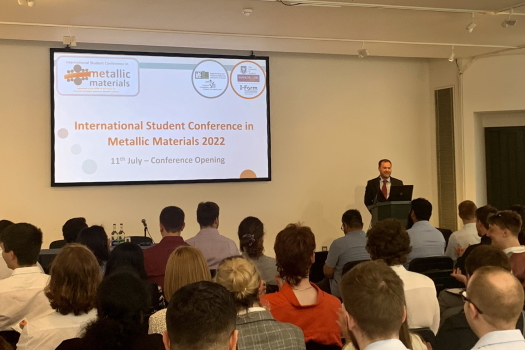 The 13th annual International Student Conference in Metallics Metals took place on the 11th and 12th of July, at the Helix Centre in Dublin City University (DCU). The conference was organised by the Engineering and Physical Science Council (EPSRC) and Science Foundation Ireland (SFI) Centre for Doctoral Training (CDT) in Advanced Metallic Systems. The CDT in Advanced Metallic Systems is a partnership between three Centres of Excellence in metallic materials and manufacturing - The University of Sheffield, The University of Manchester and I-Form, the SFI Research Centre for Advanced Manufacturing.
This year's conference explored several thematic areas, including: Industry 4.0; alloy development and processing; modelling and characterisation; manufacturing and recycling; surface engineering; microstructural analysis and materials for life science and health.The gathering offered postgraduate students and young professional researchers an opportunity to present their work in a supportive environment and provided networking opportunities between students, academics, and professionals.
Prof. Dermot Brabazon, Deputy Director of I-Form and host for the AMS-CDT 2022 conference, provided the opening address on day one, welcoming attendees from the University of Sheffield, The University of Manchester, I-Form, and from further afield.
The opening keynote speaker on day one was Dr. Nesma Aboulkhair from the University of Nottingham. Dr Aboulkhair presented on 'Metal Additive Manufacturing: From Loose Powder to Complex 3D Structural and Functional Products' and gave an overview of recent advances in metal additive manufacturing activities currently taking place at the newly established Additive Manufacturing laboratory at the Technology Innovation Institute (TII) in the UAE.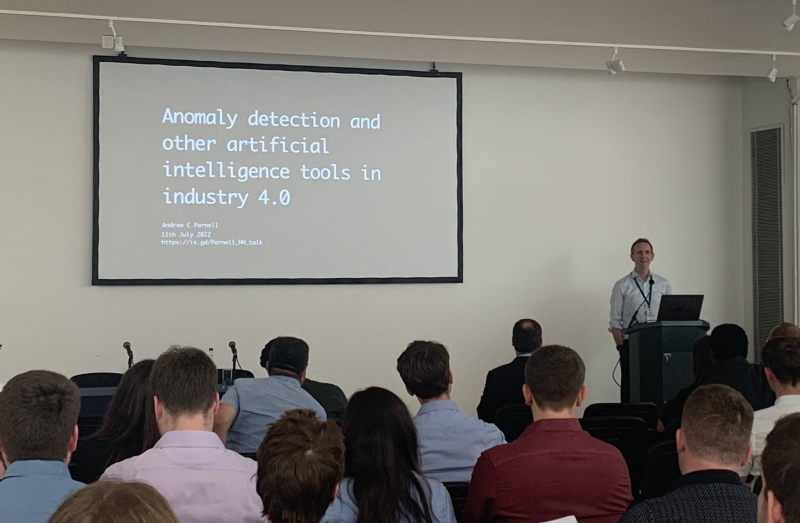 The day's second keynote speaker, Prof. Andrew Parnell from the National University of Ireland, Maynooth, presented on 'Anomaly Detection and other Machine Learning Tools in Industry 4.0'. Prof Parnell provided and insight into how machine learning tools work, looking at specific developments in this area from I-Form, and how they can be used to identify anomalies in real time for additive manufacturing processes.
Several parallel sessions took place throughout the day, with students presenting on areas such as advanced processing and characterisation, corrosion and surface engineering, microstructural design, alloys & brazing, demanding environments & energy, as well as machine learning & data analysis.
Prof. Russell Goodall, AMS CDT UK Director, from the University of Sheffield, opened the proceedings on day two. Keynote speakers on day two included Prof. Claire Davis, the Head of Advanced Steel Research (ASRC) in WMG, University of Warwick. Prof Davis discussed rapid alloy processing for steel and provided examples of how industrial process parameters are considered, and how residual elements affect the steels' microstructure properties.
Day two's second keynote speaker was Declan Bourke, Product Development Manager at Fort Wayne Metals Ireland. Mr. Bourke presented an overview of the current state-of-the-art methods for the processing of nitinol, and their relationship with resulting properties and applications.

Parallel sessions on day two included students presenting on areas such as modelling and simulation and on additive manufacturing and sustainability. Several student poster presentations also took place during both days, allowing student to discuss with peers and mentors their specific research projects. A Summer School covering the latest technologies developments in Industry 4.0, innovative materials, and machine learning was run over a three day period after the conference. This included interaction with the latest VR simulations for running expensive production additive manufacturing and materials testing equipment.
The CDT in Advanced Metallic Systems was established in 2009 with a £6.3 million investment from the EPSRC and a further £3.2 million awarded in 2014. During this period (2009-2018), the Centre was hosted jointly by the Universities of Sheffield and Manchester, building on their international reputation in metallic materials science and engineering research. In 2019, a further £5.4 million was awarded by the EPSRC in combination with a €4 million awarded via SFI to support partners within I-Form, the SFI Research Centre for Advanced Manufacturing to establish the next phase of the CDT.
In recent years, a thriving high-value metal manufacturing sector has emerged in the UK and Ireland. Novel metallic materials and engineering solutions are essential to the success of a wide range of sectors including aerospace, automotive, biomedical engineering, oil & gas, and renewable energy. The work of the CDT is heling to address the growing shortage of high-quality graduates with expertise in metallic materials for industry in the UK, Ireland and worldwide in general.
The CDT in Advanced Metallics aims to address this shortfall by providing an exciting new approach to postgraduate research and training in this area.
For more information on the CDT in Advanced Metallics, click here