I-Form and UCD hosting the IMC38 International Manufacturing Conference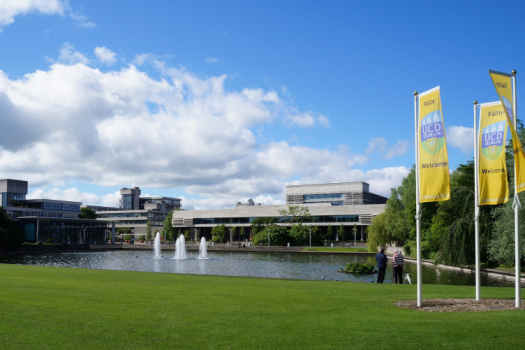 University College Dublin and I-Form are hosting this year's 38th International Manufacturing Conference (IMC38) which will take place in August 2022.
IMC38 will provide a forum for professionals from academia, industry and government to network on major developments in manufacturing engineering research and education. The theme for this year's conference is "sustainability" with planned presentations by world experts in a plenary session, which will include deliberations on national and international policy.
The plenary session will be followed by parallel sessions showcasing research undertaken by Researchers working on a broad range of domains in manufacturing engineering, science and technology. The conference will be an in-person event this year (subject to government guidelines / restrictions) in UCD.
The indicative topics of interest are set-out in the "Call for Papers" document. In particular, the IMC committee welcomes the dissemination of research by early-stage doctoral students from the island of Ireland and further afield.
The call for papers for IMC38 can be accessed here.
If you have any inquiries relating to the conference, please email: imc38@manufacturingcouncil.ie
About the International Manufacturing Conference:
The Council has organised the International Manufacturing Conference on an annual basis for thirty seven years and it changes location every year. The Conference has been and continues to be hosted by member institutions across Ireland - North, South, East and West. The technical programmes have always featured the latest developments across a broad range of manufacturing disciplines - uniquely showcasing the latest innovations and research undertaken in both academia and industry. Keynote speakers have included industry leaders, governmental policy makers, representatives from regional development agencies and academics who are recognised as leaders in their field. Technical sessions have included contributions from PhD students, post doctoral researchers, industrial research engineers, Knowledge Transfer Programme (KTP) associates and Innovation Boost (formerly FUSION) engineers.
Conferences have also included poster exhibitions featuring manufacturing related project work by undergraduate engineers making IMC uniquely placed as a focal point for research outputs spanning all points in the developmental pipeline for talented individuals in manufacturing engineering and its associated disciplines. Whether through a direct technical contribution or by simply registering to attend our conference, IMC represents a fantastic mechanism for companies and academic institutions alike, to get up to speed on the latest manufacturing research, to showcase their own work and network with potential future employees or researchers.
About the Irish Manufacturing Council:
The Irish Manufacturing Council (IMC) has been in existence since 1984 and is a grouping of academics engaged in manufacturing research and education at third level educational institutions across Ireland. Since its first conference at Trinity College Dublin in 1984, IMC has been a primary dissemination outlet for ground breaking manufacturing research and innovative education methods. The IMC membership is unique in its affiliation of academics involved in manufacturing engineering education and research from Universities, Colleges and Research Centres throughout the island of Ireland.