I-Form and Stryker deliver successful 3D printing teacher training programme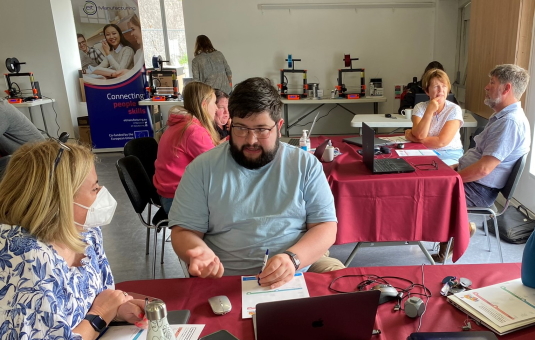 I-Form and industry partner Stryker ran a very successful 3D printing teacher training programme this summer. Fifteen primary school teachers from Cork and beyond learned the basics of 3D design and printing over three days in July.
The training is one element of a two-year project that is funded by EIT Manufacturing. It includes two European partners: Arts et Metiers Institute of Technology (ENSAM) in France and University of Tartu in Estonia.
These teachers are now bringing their learning back to classroom, along with a Prusa 3D printer funded through the project. Between now and Christmas, their young pupils will take part in a 3D design challenge, with a sustainability theme: Fix or improve something in your classroom, school or home, using 3D printing. The pupils will use a Design Thinking approach and TinkerCAD, free and user-friendly online software, to design their projects before printing them out and submitting them to the competition judges – members of the I-Form and Stryker research teams.
I-Form is also continuing its engagement with second-level teachers this autumn, through an ongoing partnership with Junior Cycle for Teachers – Technologies (JCt4), a division of the Department of Education. Working in collaboration with training provider 3DWIT, I-Form will invite teachers to engage with a range of learning content, including online content, Zoom clinics, and in-person training days at Atlantic Technological University (ATU) in Sligo and at 3DWIT in Waterford.
To find out more or get involved in any Public Engagement activities with I-Form, contact I-Form's Public Engagement Manager: sylvia.leatham@i-form.ie