Win a 3D printer for your school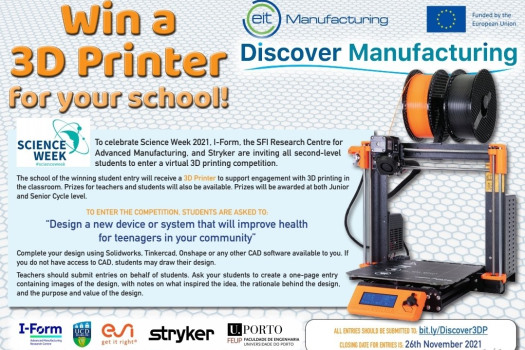 To celebrate Science Week, I-Form and Stryker are inviting all second-level students across the island of Ireland to enter a virtual 3D printing competition. The competition is part of 'Discover Manufacturing', a European project funded by EIT Manufacturing.
The school of the winning student entry will receive a Prusa 3D printer to support engagement with 3D printing in the classroom. Prizes for teachers and students will also be available. Prizes will be awarded at both Junior and Senior Cycle level (or age 11 to 15, and age 16 to 18).
To enter the competition, students are asked to 'Design a new device or system that will improve health for teenagers in your community'.
Complete your design using Solidworks, Tinkercad, Onshape or any other CAD software available to you. If you do not have access to CAD, students can draw their design.
Ask your students to create a one-page entry containing images of the design, with notes on what inspired the idea, the rationale behind the design, and the purpose and value of the design.
Teachers should submit entries on behalf of students. All entries should be submitted to bit.ly/Discover3DP.
Closing date for entries is 5pm on 26th November 2021.
Terms and conditions apply.