NUIG launches two new state-of-the-art research facilities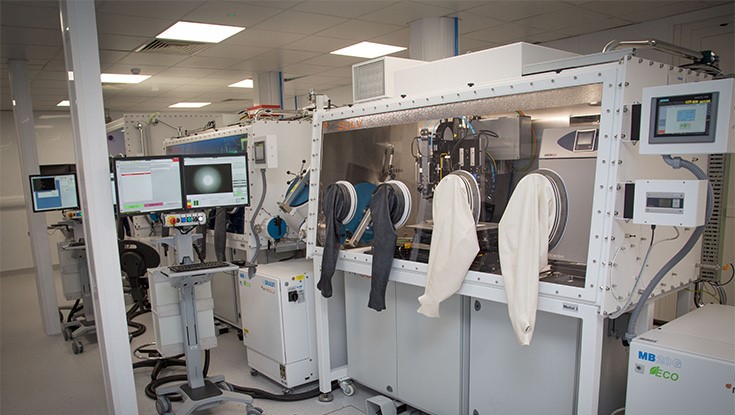 (12th June 2019) -- Researchers at NUI Galway have launched two new facilities: a Pilot Line for Bio-microsystems Development and an Advanced Manufacturing Laboratory, as part of the university's ever-expanding biomedical research and advanced manufacturing infrastructure.
Pilot Line for Bio-microsystems Development
This integrated advanced manufacturing testbed is the first of its kind globally and will accelerate the translation of laboratory-based research concepts towards pilot production. The printed electronics and printed biomaterials advanced manufacturing facility complements the University's existing expertise and investments in biomaterials and stem cell manufacturing.
The testbed will be used to evaluate advanced manufacturing of two types of biomedical product concepts – smart medical devices and tissue-engineered organs on a chip device.
Smart medical devices are of particular relevance to the medical device industry in Galway; these devices are empowered with diagnostic and therapeutic functionalities. An example is a smart woundcare device that enables future smart wound dressings to sense the status of the wound and administer a drug accordingly. The manufacturing testbed enables Galway researchers to demonstrate how scalable printed technologies can be used to realise such devices, customised for each patient's individual needs, on an economic scale.
The manufacturing testbed can also generate arrays of artificial tissue, known as tissue scaffolds. These structures are being developed to fully mimic different organs in the body. The ability to produce tissue scaffolds on a scalable platform are of increasing importance in the development of new advanced therapeutic medicinal products. For example, new cell-based therapies to cure chronic illnesses can be efficiently evaluated using arrays of tissue scaffolds which mimic disease states in the human body. For example, mesenchymal stromal cells can be used to regenerate damaged tissues.
The testbed was developed by Dr Gerard O'Connor, Head of the School of Physics at NUI Galway and a Funded Investigator in I-Form, over the last five years, in partnership with UK manufacturing system integrator M-Solv (Oxford) Ltd. Dr O'Connor leads the NCLA Laser Laboratory at the School of Physics. He believes having the ability to integrate electronic, optical, and thermal stimuli in flexible medical devices "will be transformative - changing the way we connect with, and use, future healthcare products."
Dr O'Connor said: "The new facility enables the NCLA Laser Laboratory to investigate the versatility of using multiple laser patterning, inkjet printing and spray deposition tools in the advanced digital manufacture of next generation smart medical devices and therapeutic devices."
The contribution by M-Solv Ltd., an advanced manufacturing systems company located in Oxford, UK, is very significant. Dr O'Connor and M-Solv have collaborated for 10 years, resulting in several publications, patent filings, and commercial contracts. The company's CEO, Dr. Phil Rumsby, is excited by applying their significant expertise in hybrid electronics manufacturing to the biomedical sector using the three interconnected manufacturing modules which comprise the testbed.
Dr Rumsby said: "The first module, a laser-based micro-machining module creates structured surfaces for microfluidics and embedded electronics. The second module uses laser, inkjet and spray tools to create structured conductive/non-conductive printed electronic features. Finally, a third bio-printing module applies living cells and other life-supporting biomaterials to structured surfaces. This is a major research platform with significant innovative potential; we are pleased to have been able to rise to the challenge."
The testbed is funded by Science Foundation Ireland under the Infrastructures Programme. SFI Research Centres I-Form (advanced manufacturing) and CÚRAM (medical devices) are available to provide support for enterprises and academics seeking access to the manufacturing platform.
Speaking at the launch of the new testbed, Professor Abhay Pandit, Scientific Director at CÚRAM in NUI Galway, said: "This manufacturing testbed will significantly increase our ability to lead research in the development of novel technologies. CÚRAM will work closely with the NCLA and I-Form to harness this unique platform and continue creating next generation biomaterials that will play a critical role in the treatment of a host of chronic ailments."
The laboratory in which the testbed is located was developed with funding provided under the Atlantic Area Interregional (INTERREG) EU programme under a project entitled AtlanticKETMed. The project is also led by Dr O'Connor and has established an international community of first adopters for the testbed, comprising hospitals, networks of industries, and international research centres.
The testbed and its ancillary laboratories are located in the School of Physics. The School's MSc in Medical Physics is the first European MSc programme to be awarded accreditation from the Commission on Accreditation of Medical Physics Education Programmes (CAMPEP), the second only programme worldwide outside the USA to do so. Dr O'Connor is keen to recognise the many contributions made by graduate students and technical staff throughout the School of Physics in realising this development. The School has established an MSc programme in Key Enabling Technologies to provide graduate training on the manufacturing testbed.
Advanced Manufacturing Laboratory
Dr Noel Harrison from the College of Engineering at NUI Galway also launched the new Advanced Manufacturing Lab (AML) in the Alice Perry Engineering Building, which houses a suite of Additive Manufacturing (3D Printing) technologies. The lab has been developed by Dr Harrison (Mechanical Engineering and I-Form Funded Investigator) to advance teaching, fundamental research, and industry collaboration on future sustainable manufacturing technologies, materials and product design. With NUI Galway's first metal powder bed fusion printer (3D Systems DMP ProX 100), the AML offers new capability for in-house prototyping and experimental manufacturing. Last month, an AM cementless orthopaedic device technology developed and patented by Dr Harrison was licenced to the medtech company Loci Orthopaedics Ltd, also based at NUI Galway.
Dr Noel Harrison said: "Multiple industries now demand engineering graduates with knowledge and experience in 3D printing process hardware, software, materials and design. The AML lab is an invaluable resource for our Degree and Masters students and is a state of the art research facility for our PhD student and postdoctoral researchers."
"Manufacturing is the second-largest employer in Ireland and accounts for 36.5 percent of GDP", said I-Form director Professor Denis Dowling. "These new testbeds at NUI Galway are key pieces of infrastructure for the manufacturing research community, and they will ensure that Irish manufacturers continue to have access to leading edge technology for the development of world-class products."
Speaking about the awards supporting both of these facilities, Professor Mark Ferguson, Director General of Science Foundation Ireland, said: "Science Foundation Ireland is delighted to support the launch of this state-of-the-art manufacturing testbed, which is funded through our Research Infrastructure Programme. The programme specifically seeks to support researchers by ensuring there are superb technologies and supports in place for them, ultimately facilitating excellent and impactful scientific research. The testbed is a great reflection of collaboration between different stakeholders in the ecosystem, with SFI Research Centres CÚRAM and I-Form collaborating with NUI Galway to enhance our understanding of advanced manufacturing."
-Ends-