Ministers Humphreys and Halligan launch €22.2 million I-Form SFI Research Centre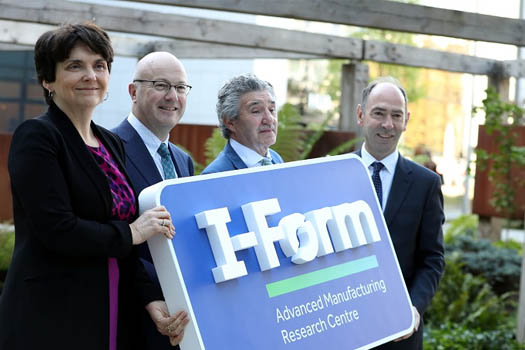 (24th September 2018) – Minister for Business, Enterprise and Innovation, Heather Humphreys TD, and Minister for Training, Skills, Innovation, Research and Development, John Halligan TD, today launched the new I-Form Advanced Manufacturing SFI Research Centre, hosted by University College Dublin, representing Government and industry investment of €22.2 million.
The I-Form Advanced Manufacturing Research Centre, funded by Science Foundation Ireland and industry, includes partnerships with seven research institutions and 31 companies. I-Form's mission is to shape the future of manufacturing through high-impact research into the application of digital technologies to materials processing. It brings together key expertise in materials science, engineering, data analytics and cognitive computing to improve the understanding of complex materials processing and to develop user-friendly process control systems for the manufacturing industry.
Welcoming the launch of the Centre, Minister for Business, Enterprise and Innovation, Heather Humphreys TD, said: "I am very pleased to welcome I-Form to the world-leading SFI Research Centre network, which acts as a magnet to attract talent and investment to Ireland. Innovation is at the core of the Government's science strategy and is exemplified by the visionary technologies being developed here in I-Form.
"The manufacturing sector is the second largest employer in Ireland and accounts for 36.5% of GDP and €122.6 billion in exports. It is crucial that Ireland continues to deliver impactful research outcomes in advanced manufacturing and I am particularly pleased to see such a strong regional focus, with 17 of the 31 companies based outside Dublin."
The I-Form SFI Research Centre is a partnership between University College Dublin, Dublin City University, Trinity College Dublin, Institute of Technology Sligo, the National University of Ireland Galway, Waterford Institute of Technology and the National University of Ireland Maynooth. I-Form's industry partners are split equally between indigenous small to medium enterprises and multinational companies.
Minister for Training, Skills, Innovation, Research and Development, John Halligan TD said: "I am delighted to launch the new I-Form SFI Research Centre at UCD today, which will enable new research teams to work collaboratively to shape the future of Irish manufacturing. Collaboration and innovation are at the very core of the SFI Research Centre network, which continues to build on Ireland's international reputation for research excellence and I wish all involved every success."
Achievements for the newly formed I-Form SFI Research Centre already include:
Securing of an additional €1.7 million in EU funding (incl. €1 million for regional development)
Publication of world's first research paper on the HP multi-jet fusion printing process
Successfully commercialising a new plasma processing technology for the pre-treatment of polymer powders, such as those used in additive manufacturing
Working with Irish SME Exergyn to explore enhanced efficiency for their innovative clean-energy solution, which uses waste hot water to generate electricity
In conjunction with Croom Precision Medical, I-Form is the first internationally to act as a 'beta tester' for Renishaw's new advanced process monitoring and control technology for production scale metal additive printing
Worked with the Microsoft Ireland 'HackAbility' initiative on the development of a prototype mount for holding phones and tablets. The concept was developed after meetings with the National Rehabilitation Hospital and with Enable Ireland accessibility users.
Prof Mark Ferguson, Director General of Science Foundation Ireland and Chief Scientific Adviser to the Government of Ireland, said: "Science Foundation Ireland supports excellent research with impact that underpins economic development and assists international and indigenous industry to grow and flourish in Ireland. SFI Research Centres deliver significant economic and societal impact to Ireland. I-Form's research will be vital for the future competitiveness of manufacturing, helping Ireland to attract and train outstanding researchers and be a global leader in this rapidly changing sector."
Prof. Denis Dowling, I-Form's Centre Director and Director of the Surface Engineering Group at UCD School of Mechanical and Materials Engineering, said: "The I-Form SFI Research Centre is working with industry to deliver the next level of understanding and control for complex manufacturing processes. Through our research into digital solutions for materials processing technologies, we are changing how things are made, and delivering a step-change in competitiveness for Irish manufacturing. I-Form will drive regional development through industry collaborations in areas of advanced manufacturing and digital technologies for Industry 4.0."
Prof. Andrew J. Deeks, President of University College Dublin, added: "University College Dublin is proud to be the host institution for I-Form, the SFI Research Centre for Advanced Manufacturing. I-Form is a collaboration across seven research institutions, with industry partnerships around the country, working together to ensure that Ireland continues to make an impact in the advanced manufacturing sector. With the next phase in the evolution of manufacturing upon us, this SFI Research Centre means that Ireland is well-placed to compete globally, and to attract and retain engineering talent to academia and industry."
For further information, please contact:
Sylvia Leatham, Communications & Public Engagement Manager