Minister Humphreys announces funding for I-Form COVID-19 research project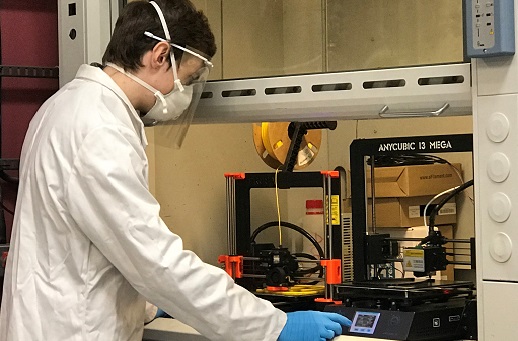 (Dublin, 9th June 2020) | I-Form, the SFI Research Centre for Advanced Manufacturing, headquartered at UCD, has secured €126,071 for a project entitled '3D printing PPE for healthcare settings'. Professor Denis Dowling, UCD School of Mechanical and Materials Engineering, and Professor Dermot Brabazon, School of Mechanical and Manufacturing Engineering, DCU, are co-applicants for this project.
Minister for Business, Enterprise and Innovation, Heather Humphreys TD, has announced an investment of €1.4 million in 11 projects under the SFI-coordinated research and innovation response to the COVID-19 pandemic. This investment builds on previous funding and complements the existing research work underway in higher education institutions across the country.
Within I-Form, the COVID-19 Rapid Response Digital Manufacturing and Innovation Hub will rapidly design, manufacture and deliver urgently needed PPE (Personal Protective Equipment) for frontline medical staff in hospitals and other healthcare settings. The Hub will primarily focus on 3D printing of key PPE parts for wearable equipment, such as face protectors, and parts for environmental protectors, such as door openers and ventilator parts.
The project will provide much-needed PPE for hospitals and other healthcare settings, which will help to protect front-line workers and patients, which will in turn provide greater protection in healthcare settings for workers, patients and their families.
Professor Denis Dowling, Director, I-Form, said, "Since the start of the pandemic we have been working to support frontline staff, including the 3D printing of over 4,000 protective visors. This funding from SFI will be of enormous assistance in helping us to develop our use of 3D printing technology for PPE, including addressing improved part design, material and performance issues."
Professor Dermot Brabazon, Deputy Director, I-Form, said, "The sudden escalation in the need for protective wearables from mid-March this year has led to many requests coming into us for support. This funding will enable not just the provision of these important supplies but will enable further improvement in the provision of more comfortable and protective PPE for frontline workers."
Since Friday 27th March, I-Form researchers have produced over 4,000 3D printed face shields. These have been distributed to hospitals, nursing homes, ambulance services and community care groups across the country, including:
Tallaght University Hospital
HSE Covid-19 test centres & HSE North Dublin Central
St Vincent's University Hospital
Columcille's Hospital in Loughlinstown
Beacon Hospital
University Hospital Limerick
Midland Regional Hospital, Mullingar
National Ambulance Service in Tipperary
John's Ambulance
HSE Crisis Management Team for Dublin South, Kildare & West Wicklow Community Healthcare
Community Intervention Taskforce (South Dublin)
St Michael's House
Craddock House Nursing Home, Naas
Mount Hybla Nursing home, Dublin
Mary's Care Home, Phoenix Park
North Dublin Home Care, Malahide Road
Beechfield Care Home Group
Shelton Medical Centre
Cheeverstown Nursing Home
Tanzania mission hospital
I-Form has also assisted the HSE with hand sanitizer production, bottling almost 5,000 bottles of individual sanitizers for distribution to patients.
Making the announcement at I-Form's UCD lab on 9th June, Minister Heather Humphreys said: "I am delighted to announce this further investment in research and innovation related to COVID-19. These projects will address immediate priorities to assist us with the challenges we face as we seek to reopen our society and economy, and get the country running again. Research and innovation from our higher education institutions, in collaboration with our health services and industry, can support us in delivering solutions to the many challenges the pandemic has thrown at us. Working together we can find solutions and move forward towards recovery."
Commenting on the awards, Professor Mark Ferguson, Director General Science Foundation Ireland and Chief Scientific Adviser to the Government, said "The COVID-19 Rapid Response Research and Innovation programme exemplifies the high international standards, agility and responsive nature of our research community. This programme has been delivered by a high level of interagency and higher education institutional collaboration. We are stronger when we work together, and we will continue to collaborate with our colleagues to share the latest knowledge, developments and innovations, and to support ideas that will generate solutions to the many challenges presented by the COVID-19 pandemic."
ENDS