I-Form's rapid response to the pandemic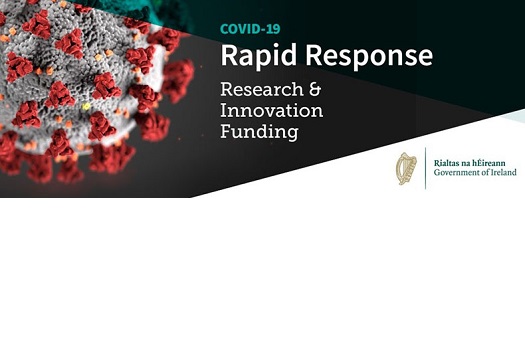 (October 21st 2020) When the COVID-19 pandemic hit Ireland in Spring 2020, it caused a personal protective equipment (PPE) shortage in the health system. An Emergency Department nurse in Tallaght University Hospital contacted the I-Form research team with a request: Could we use our 3D printing expertise to make protective face shields for Emergency Department staff? I-Form responded to the crisis by setting up several mini-production lines for 3D printed equipment at the height of the PPE shortage. Under I-Form director Prof Denis Dowling at UCD and I-Form deputy director Prof Dermot Brabazon at DCU, the I-Form team worked around the clock to 3D print 5,000 face shields for doctors, nurses, and care-home workers across Ireland.
Since April, the Centre has been successful in obtaining funding for six projects with a combined value of over €500,000, under the SFI-led COVID-19 Rapid Response Research and Innovation Programme. The most recent projects to secure funding in the September round, cover the exploration of how various surfaces affect the ability of the virus to infect people and research into Coronavirus-resistant plastic for food packaging. I-Form is also now conducting an in-depth evaluation of copper-containing materials that could be used in conjunction with additive manufacturing to harness anti-microbial properties. This project aims to enable the use of antiviral polymers when manufacturing PPE and/or medical devices. I-Form engineers have also used their 3D printing expertise to address the clinical need for ventilator parts, breathing devices and other protective equipment.
The list of funded projects includes:
Rapid Response Digital Manufacturing Hub – Denis Dowling/Dermot Brabazon UCD/DCU
Surface engineering for safer Personal Protective Equipment – Emmanuel Ekoi/Dermot Brabazon DCU
Modelling Ireland's medium-term future in the COVID-19 pandemic – Andrew Parnell MU
Development of Plastic Packaging resistant to COVID-19 – Michael Gilchrist UCD
Manufacture of novel COVID-19 Laryngoscopes for airway intubation – James Jones (support from Denis Dowling) UCD
Measurement inspired laser fabrication of aerosol filter materials – Ger O'Connor NUIG