I-Form partners with UK universities for new joint Centre for Doctoral Training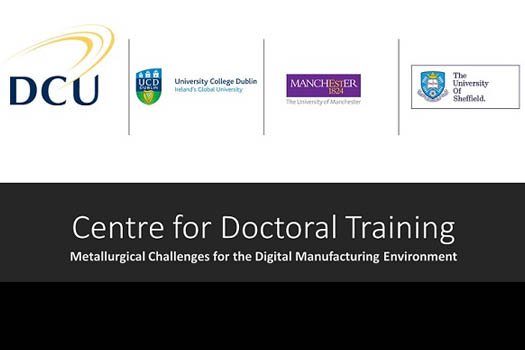 I-Form, the SFI Research Centre for Advanced Manufacturing, is pleased to announce funding for a new joint Centre for Doctoral Training.
I-Form's Dublin City University and University College Dublin have partnered with University of Sheffield and University of Manchester to launch a joint PhD programme in Metallurgical Challenges for the Digital Manufacturing Environment. The programme is supported by a €4 million investment from Science Foundation Ireland and will see 25 PhD students recruited over the next five years to focus on metallic materials innovation in high added value manufacturing.
Minister of State for Training, Skills, Innovation, Research and Development, John Halligan, announced an investment of approximately €39 million to support the involvement of SFI Research Centres in seven new joint Centres for Doctoral Training (CDTs). The awards have been made under a new partnership between Science Foundation Ireland and Engineering and Physical Sciences Research Council (EPSRC), which is part of UK Research and Innovation.
The Centres for Doctoral Training will bring together a group of PhD students from diverse backgrounds to tackle today's evolving issues and future challenges in an exciting environment, linked with industry and supporting broad skills development in areas such as responsible innovation, leadership, science in the media and industrial training.
The CDTs represent one of the UK's most significant investments in research skills, supporting over 70 centres that will equip the next generation of doctoral level researchers across engineering and physical sciences.
Welcoming the awards to SFI Research Centres, Minister of State for Training, Skills, Innovation, Research and Development, John Halligan TD, said: "I am pleased to announce this new collaboration that will provide training opportunities for doctoral students in both the UK and Ireland. These new PhD training initiatives will provide opportunities for talented students in SFI Research Centres across Higher Education Institutions. Cultivating and maintaining positive research and development collaborations between Ireland and the UK, as well as the rest of the world, is a priority for the Irish Government, and the Department of Business, Enterprise and Innovation is thrilled to be working with the EPSRC on this programme."
Professor Mark Ferguson, Director General of Science Foundation Ireland and Chief Scientific Adviser to the Government of Ireland, said: "Science Foundation Ireland is delighted to collaborate with EPSRC on this excellent programme. Ireland and the UK are key drivers of impactful, world-leading research and it is important that we continue to strengthen our partnerships. The level of investment in the Centres for Doctoral Training is significant, and represents our commitment to prepare graduates for careers in research and beyond, and the emphasis we place on progressing international alliances and global opportunities for our researchers. I would like to congratulate the seven SFI Research Centres on their success in this programme and look forward to working with EPSRC over the coming years."