Minister Harris announces SFI COVID-19 funding for I-Form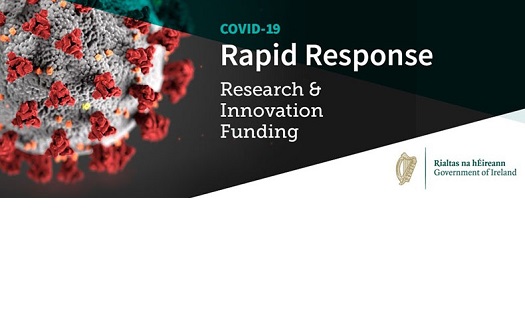 (Dublin, September 24th) A project at I-Form, the SFI Research Centre for Advanced Manufacturing, has been awarded significant finance, under a major State COVID-19 response funding package. The project will explore how various surfaces affect the ability of the virus to infect people. A team led by I-Form's Dr Emmanuel J. Ekoi – working with I-Form Deputy Director Prof Dermot Brabazon at DCU - has been awarded funding of €101,970.
One way that the COVID-19 virus can spread is when a person makes contact with a contaminated surface. The outer surface of Personal Protective Equipment (PPE) has a high risk of being contaminated with the virus - especially in some healthcare environments.
I-Form's 'Surface engineering for safer Personal Protective Equipment' project won funding as part of a government investment of €5.5 million in 41 projects, under the SFI-led COVID-19 Rapid Response Research and Innovation Programme. The package was announced by Minister for Further and Higher Education, Research, Innovation and Science, Simon Harris, TD.
I-Form's project is looking to better understand the influence of surfaces and their texture on the COVID-19 virus, and to identify materials and surfaces that are less hospitable for virus particles. The aim is to identify materials, surfaces or outer coatings for Personal Protective Equipment that destroy the virus on contact or reduce the time that it remains able to infect others.
Lead Researcher Dr Ekoi said: "Touch surfaces can be found in homes, hospitals, schools, and airports, among others. Identifying and developing surfaces which tackle COVID-19 is therefore essential for the eradication of the virus. In order to accomplish this, an understanding of the effect of surface texture of materials commonly used in PPE, is a particularly novel aspect that has not yet been explored, despite its importance. Healthcare workers, patients and policymakers, have been identified as groups who will directly benefit from this research."
A surface contaminated with the COVID-19 virus can be a source of infection, because people can pick up the virus from touching that surface. This is a problem in PPE - it could quickly become contaminated with the virus in healthcare settings where patients with COVID-19 are being treated.
Also announced today was funding for I-Form Funded Investigator Professor Michael Gilchrist at University College Dublin, for a project researching Coronavirus-resistant plastic for food packaging.
Commenting on the awards, Professor Mark Ferguson, Director General Science Foundation Ireland and Chief Scientific Adviser to the Government, said: "The COVID-19 Rapid Response Research and Innovation funding is critical to supporting Ireland's National Action Plan in response to the pandemic. The projects announced today will play a pivotal role in developing societal and economic solutions to challenges we face. This is the fourth announcement of COVID-19 funding from SFI to support research projects across a number of Higher Education Institutes."
Earlier this summer, I-Form announced funding from a previous round of the SFI Rapid Response Research and Innovation fund, for its work on the 3D printing of PPE in healthcare settings.
- ENDS