I-Form assists with RTE's 'Big Life Fix'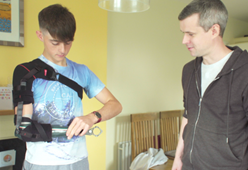 I-Form were delighted to contribute to helping Eoghan Barry of Skibbereen rowing club to improve the efficiency of his rowing stroke. The centre facilitated the metal 3D printing of a wrist device in lightweight titanium alloy based on Dr David McKeown's designs.
Dr McKeown, from UCD's School of Mechanical and Materials Engineering, is one of the inventors on RTE's inspirational new series 'Big Life Fix'. Made with the support of Science Foundation Ireland, this series marries real problems and human drama with science, proving that with a little bit of ingenuity, nothing is impossible.
Picture shows Dr David McKeown and Eoghan Barry with his new prosthetic rowing device