AMBER and I-Form announce breakthrough for next generation smart wearable devices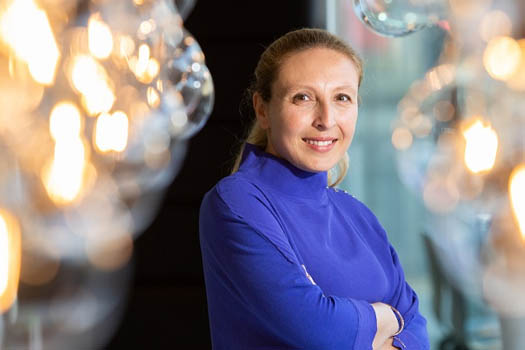 Researchers from AMBER, the SFI Research Centre for Advanced Materials and BioEngineering, at Trinity College Dublin, in collaboration with I-Form, the SFI Research Centre for Advanced Manufacturing, at University College Dublin, have announced how the development of a new material, called MXene inks, will greatly aid the development of the next generation of smart wearable devices – otherwise known as e-wearables and e-textiles.
In a new study, published in Nature Communications, a leading international science journal, Professor Valeria Nicolosi, AMBER and I-Form lead Investigator on the project, has announced how this new material could address the issue of energy supply for the smart wearable market. The smart wearable market has seen significant growth of late and is due to grow to $51 billion by 2022. However, the development of such e-wearables has so far been greatly overshadowed by the power supply issue, as a traditional battery is unsustainable and not convenient.
Professor Valeria Nicolosi, AMBER and I-Form lead Investigator on the project, and Professor of Nanomaterials & Advanced Microscopy at Trinity College Dublin, said: "Smart wearables have battery requirements that so far have been fulfilled by detachable batteries (which are usually cumbersome battery packs that limit the size and geometry of these wearables). With our new research, we have demonstrated that we can manufacture energy storage devices (supercapacitors) that can be easily 3D printed on virtually any substance and on any shape or pattern. They are thin, flat, flexible and can take virtually any geometry/design (i.e. be embedded within the particular design of any wearable) solving all the issues related to power-supply in smart wearables.
"This new study effectively demonstrates how a readily scalable technology can be used for the development of inexpensive and high-performance energy storage devices (based on MXenes inks). This could have huge potential for the development of the next generation of smart wearables and even textile-electronics."
Smart wearable devices refer to items that can perform electronic functions and are perceived as a way to add features into common wearable devices. New smart wearable electronics come to the market with functionalities such as: heat regulation, luminescent, touch, and sensitivity. These functionalities are useful for several applications in different fields such as: healthcare, sports, space exploration, and gaming.
Professor Mick Morris, Director of AMBER and Professor in Trinity's School of Chemistry, said: "Today's announcement is another example of excellent research with real potential impact from our AMBER team. At AMBER, we are a world-class centre of scientific excellence and we aim to provide solutions to the challenges facing society and industry. I commend Professor Nicolosi and her team for this new study."
I-Form Director Professor Denis Dowling, of the UCD School of Mechanical and Materials Engineering, said: "The development of the new MXene ink, combined with the ability to process it through 3D printing to form energy storage devices, shows the importance of integrating materials development and processing, which are respectively the core focus research areas of the AMBER and I-Form SFI Research Centres. Professor Nicolosi and her team's research promises real impact for a multitude of sectors."