I-Form launches 3D printing training for teachers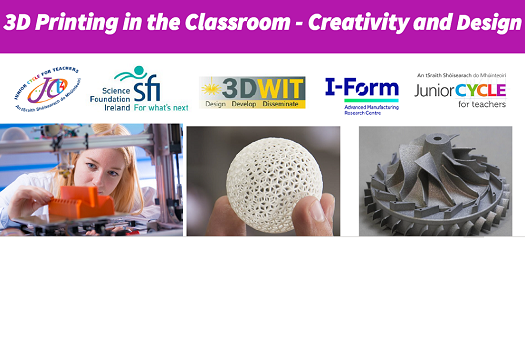 I-Form is keen to inspire the next generation of manufacturing talent to join our evolving industry, to help address the growing skills shortage in advanced manufacturing. Teachers, meanwhile, are keen to learn more about new technologies, integrate them into the classroom and guide their students along their future career paths.
I-Form, in partnership with the Junior Cycle for Teachers - Technologies (JCt4) and 3DWIT, is launching an SFI Discover-funded project in 2021 aimed at upskilling teachers in the use of 3D printing technology in the classroom. A series of training workshops – all free and online - aims to build teachers' confidence and ability to link 3D printing projects to the curriculum and to discuss manufacturing careers with their students.
The CPD elective '3D Printing in the Classroom' is offered exclusively to Junior Cycle Technologies teachers - through a mix of live and pre-recorded online sessions – between January and April 2021.
An ISL (Irish Sign Language) interpreter will be provided for the live sessions, and captions will be provided for recorded sessions.
Participating teachers will be entered into a draw to win a 3D printer for their school.
Find out more and book your place on the course now