Shaping Your Future 2019 was a year-long joint pilot project between I-Form and IMR, funded through SFI's Discover programme, in which students designed and created a new device using 3D printing.
Shaping Your Future 2020-2021 will run with a small number of Transition Year classes across Ireland, with some adjustments to fit in with Covid-19 restrictions.
For more information or to make a query about the programme, contact education@i-form.ie
Shaping Your Future 2019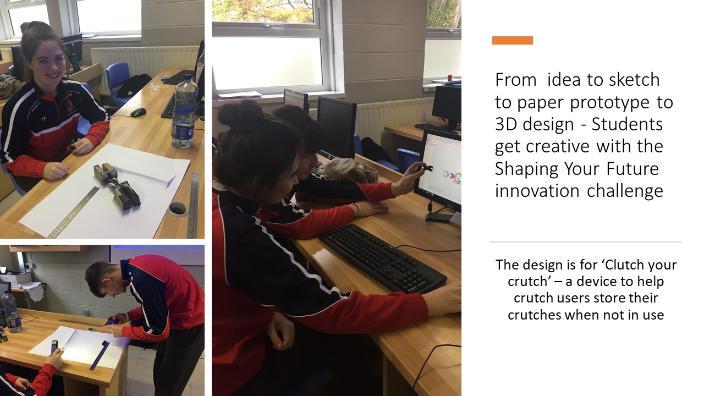 The 'Shaping Your Future' project offered primary and second-level students and teachers a hands-on experience with additive manufacturing technology. Students were issued with a societal challenge: design and 3D print a device to help a person with a disability or to provide humanitarian aid in a disaster zone.
Participating schools had access to a free printer, thanks to GE Additive's global donation scheme. The results of the programme showed that students had an increased understanding of engineering and manufacturing and now see these careers as a means to solve problems and improve people's lives. The hands-on aspect of the programme was the most valued by students.
Participants experienced what it means to design and create using 3D printing technology, with the guidance and support of manufacturing researchers from the local community in Ireland's Midlands. Our intention was to inspire the next generation to consider high-skilled STEM careers, and to broaden teachers' views of the careers of the (near) future. Participants came from a range of backgrounds, reflecting the need for our industry to become more diverse.
The programme included a TY project, primary school engagement and teacher training.
Primary schools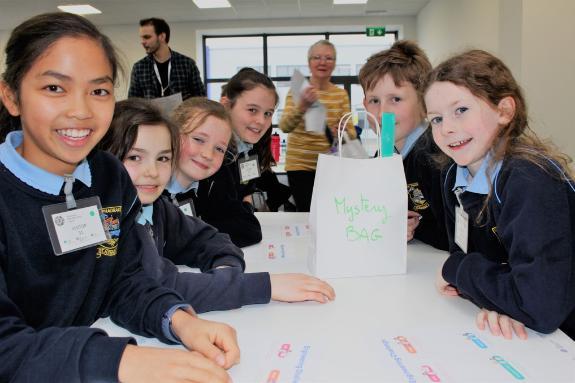 Participating primary schools were St Kenny's Mullingar and Naas Community National School. Each had an interactive visit to IMR, with a design thinking workshop, and interactions with researchers working in VR, robotics and 3D printing. Researchers travelled to both schools some weeks later to deliver a classroom workshop where the children learned the basics of 3D printing/design using Tinkercad software.
Second-level teachers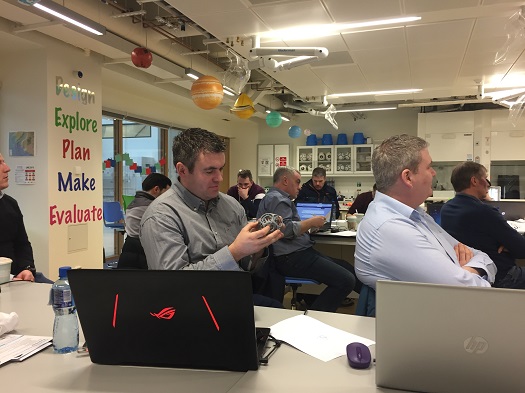 Fourteen teachers from the national Engineering and Technology Teachers Association (ETTA) participated in a day of 3D printing training, hosted at UCD. Along with learning the basics of printer use and how to design using free online software, teachers engaged with I-Form researchers, who demonstrated how haptic glove technology and virtual reality are being used in I-Form research, leading to improved operator control in advanced manufacturing systems.
After the teacher training, I-Form connected the teachers to 3D printing equipment provider GE Additive in the US, who run a global 3D printer donation scheme for schools. We supported 10 teachers in submitting applications, and all 10 were successful in their application for a free Dremel 3D printer for their school.
Transition Year programme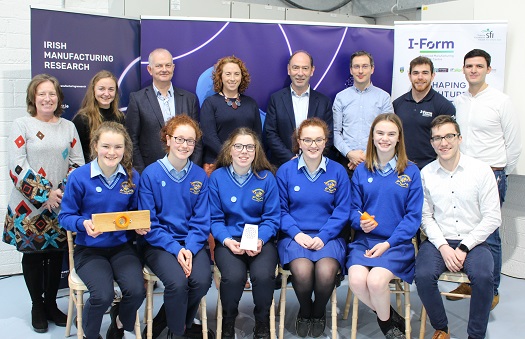 Participating TY classes came from the following schools:
Loreto College, Mullingar in Westmeath
Columba College in Killucan, Westmeath
Scoil Mhuire in Trim, Meath
Ardscoil Phádraig in Granard, Longford
The Transition Year (15-16-year olds) element of the programme commenced in September 2019 and culminated in a final and awards ceremony on December 10th 2019. The four schools – i.e. approx. 100 students -- were issued with an innovation challenge by the I-Form/IMR team: Working in teams of 4/5, to design and print a device that would help a person with a disability, or would be of humanitarian aid in a disaster zone. Each school received two visits by researchers to the classroom, two visits to IMR, and an industry visit.
In the classroom, students were encouraged to take a 'design thinking' approach to the challenge, then later to pitch their ideas to the research team, who guided ideation and iteration throughout the project. During their first visit to IMR, students learned how to use Tinkercad software, along with interacting with researchers working in VR, robotics and 3D printing. Students competed for a place in the final, where they pitched their projects to a panel of judges.
The winning entry (pictured above) was called 'Keyzy' – a 3D printed key aid inspired by a student's grandmother who suffered from tremors due to Parkinson's disease. The device was designed by students from Loreto College in Mullingar.