3D printing for teachers
I-Form is keen to inspire the next generation of manufacturing talent to join our evolving industry, to help address the growing skills shortage in advanced manufacturing. Teachers, meanwhile, are keen to learn more about new technologies, integrate them into the classroom and guide their students along their future career paths.
Primary schools
Primary school teachers - apply now for a free, hands-on exploration of 3D design and printing in manufacturing in the classroom. This fun, challenging 3-day course takes place at the Lifetime Lab, Cork, in July 2022. Participating teachers who are committed to running a classroom challenge will be provided with access to a 3D printer for their school. Read more about the programme and apply here
STEM Matters magazine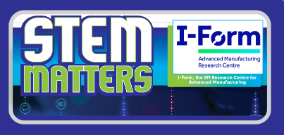 I-Form was the featured research centre in the April 2022 issue of 'STEM Matters', an 8-page publication for the primary school magazine, Primary Planet.
The issue features an accessible introduction to cutting edge research in advanced manufacturing, a Design Thinking challenge for the classroom, fun videos and researcher profiles.